Foundation Repair in [contractor]
When a homeowner finds cracked or bowed foundation walls in their home, it can be both a stressful and expensive problem. If those walls are left unattached, the entire home can be affected! However, if it is addressed quickly, bowing or damaged basement walls can be repaired in a way that doesn't require the foundation walls to be rebuilt.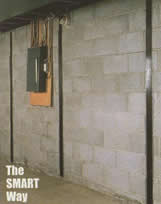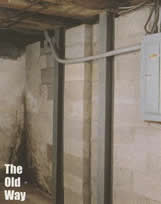 Cracked and Bowed Walls in PA and NY
Both water (especially in colder climates) and roots can exert pressure on a foundation, which can lead to cracked and bowed walls within your home. Cracks in the foundation allow water to enter, which could mean a wet or even flooded basement. Bowing walls, which curve inward, can lead to cracks in drywall, loss of property value, and the potential collapse of the structure.
Basically, if either a cracked or bowed wall is left unattended, it can cause serious and unnecessary damage. If the interior of the wall can be strengthened to combat the pressure caused by outside elements, homeowners will be able to avoid any rebuilding. Steel beams and plates used to be the go-to method for solving foundation issues but here at Waterproofing Specialties, we know that the better choice is the Reinforcer.
The Reinforcer has eight to ten times the malleable strength of steel. It is effective on clay tile, poured concrete, concrete block, and brick, securing and stabilizing cracked, bowed, or buckled foundation walls. It also comes with a Lifetime Transferable Warranty. Once the walls are fully repaired, they can be finished or painted to improve the overall look of the home.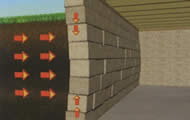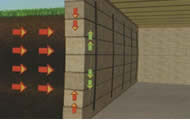 When the Reinforcer is bonded to failing foundation wall in PA and NY , the entire wall will act as a structural member. Multiple laboratory and field testing have proven that the Reinforcer will not fail before the concrete or masonry wall will. In fact, just three strips of Reinforcer are able to hold up against weights of up to 30,000 pounds. Two Reinforcer strips installed on a masonry foundation wall four feet apart can withstand pressure of up to 14,000 pounds! What does this mean for you? When the Reinforcer has been installed against your foundation, your walls can be as much as ten times stronger! More information can be found at thereinforcer.com.
If you have cracks in your foundation wall, Waterproofing Specialties can help! We also have a fast, easy solution if water has leaked into your basement. Basement Systems' FlexiSpan® basement wall crack repair system uses a combination polyethylene seal and foam strip to remove the water to a dry well. It's proven to have long-lasting results and ensure water does not continue to leak into your basement. We also offer other basement waterproofing solutions, depending on your issue.
We provide Free Estimates in Northern Pennsylvania and Western New York. Call or contact us today about your foundation repair issues. We work with homeowners in Warren, Olean, Du Bois, Saint Marys, Oil City, Franklin, Bradford, Punxsutawney, Clearfield, Clarion, and the surrounding area.
Looking for a price? Get a no cost, no obligation free estimate.